Click on each opportunity heading below to see detailed information, and then click the tab again to close the opportunity.
McNair Scholars Program

About the McNair Scholars Program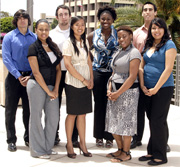 The McNair Scholars Program prepares qualified undergraduates for entrance to a PhD program in all fields of study. The goals of the program are to increase the number of first-generation, low-income and/or underrepresented students in PhD programs, and ultimately, to diversify the faculty in colleges and universities across the country.
This federal program was established in memory of physicist and Challenger astronaut Dr. Ronald E. McNair. The program is one of several TRIO programs funded by the Department of Education supporting the academic achievement of students from groups traditionally underrepresented in higher education. The UCSB McNair Scholars Program is also supported by the Office of the Executive Vice Chancellor and the deans of the College of Letters and Sciences and the School of Engineering.
The UCSB McNair Scholars Program provides undergraduates with opportunities to participate in academic year and summer research activities. McNair Scholars attend courses, seminars and workshops on topics related to graduate school preparation; complete a research project under the guidance of a faculty mentor; and have the opportunity to present their research at local, regional and national conferences.  
Click Here for more information about the McNair Scholars Program
UCDC/UC Sacramento
Are you interested in a valuable and challenging academic experience, combining a professional internship and research?
Would you like to earn 12 units of academic credit and maintain your UC enrollment while doing so?
Then you should seriously consider the UCSB Washington Center Program (UCDC) or the UC Sacramento Program (UCCS).  These residential programs are open to all majors.  Students maintain their enrollment status at UC while living and working in Washington, D.C. or Sacramento for a quarter.   Students who are financial aid recipients are eligible for supplementary financial aid awards.
Students who attend UCDC or UCCS rate these programs as one of their most valuable experiences as an undergraduate.
Both programs place students right in the middle of a dynamic, fast paced city, surrounded by history and alive with culture.  Students are provided with a multi-dimensional educational experience in either our national or state capital.  The program also allows students to undertake cultural and social activities while participating in an academic program.
During the quarter in Washington, D.C. all UC students live and study together at the University of California Washington Center building.  Whether students go to Washington or Sacramento, internships are held at any one of the numerous agencies and organizations in these cities.
Application materials for these two programs are available from our website:http://www.ltsc.ucsb.edu/urca/ucdc.php.  Further information is available on-line and from the UCDC/UCCS staff in 2105 North Hall, 893-3090, or by email at ucdc@Ltsc.ucsb.edu. Please let us know if you have any questions!